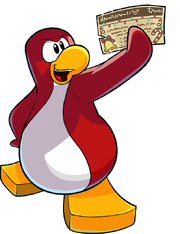 NOTE: THIS PAGE IS A FANON, THE OTHER WORD FOR FAKE.
Section heading
The Corn Sky Movie is a movie that will be released in the theaters on November 12, 2013. This is an honor of celebrating Corn Sky's 2nd year anniversary on Club Penguin since joining on November 2011. The movie will be distributed by Walt Disney Studios along with Club Penguin Studios.
Plot
Corn Sky relaxes in his igloo as he gets a call from his friend Erdem345 saying Corn Sky has to rescue 100 puffles from the cave of "Pookiyy Quaeda" near the Arctic Circle outside of Club Penguin Island. This is due to Herbert kidnapping them. It takes him a week to rescue all of them. The only way to get to the lost puffles is to surf there.
Trivia
This is based off on the 2 Club Penguin mini-games of "Catchin' Waves" and "Puffle Rescue".
The Arctic Circle was where Herbert P. Bear used to live before he came to Club Penguin.
The movie is mostly focused on the mini-game of Puffle Rescue as Corn Sky has to save 100 puffles, it will be hard.
The movie will say Erdem345's name by "Erdem" because names do not have numbers in them.
Gallery