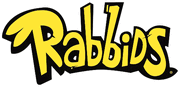 Section heading
Rabbids is another series Corn Sky likes. They are average height, crazy rabbits who like to cause havoc and mischief and yell "BWAAAH!" whenever they experience adrenaline rushes. They were originally the antagonists in Raving Rabbids. However, due to increase in popularity, they became the protagonists in Rabbids Go Home. In August 2013, a TV series Rabbids Invasion was made for Nickelodeon. Corn Sky likes these creatures.
Gallery
Community content is available under
CC-BY-SA
unless otherwise noted.