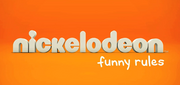 Section heading
Nickelodeon Funny Rules is another one of Corn Sky's favorites. The commercial is about Nickelodeon characters doing some funny actions. Corn Sky also likes the Nickelodeon Funny Rules logo that always comes at the end of the commercial. This has been discontinued.
Trivia
The logo is what Corn Sky really likes the most out of it.
This commercial sometimes makes Corn Sky think about his Sense & Spray air fresheners. It is unknown why.