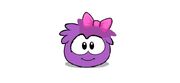 Section heading
Lols is Corn Sky's Purple Puffle. The other purple related puffles are Favorite, North Aurora, Glade, Lolz, Ghost, Niles, Purple, Linen, and Peach.
Trivia
Lols was adopted on January 11, 2014.
Corn Sky has another Purple Puffle with the same name but expect the S is a Z.
This Puffle is similar to Lolz, another one of Corn Sky's Puffles.