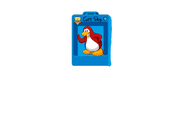 Welcome to the Corn Sky page! This page will give you information about Corn Sky's penguin from the virtual world of Club Penguin. To view his account for Corn Sky Wiki & Fandom, click here.
History
Corn Sky first joined Club Penguin on November 12, 2011. One of his relatives showed him how to play and he showed him how to play another Disney virtual world entitled "The World of Cars Online". Corn Sky started to like Club Penguin right away, then he started to get the hang of it overtime like how to find hidden items in catalogs and how to find pins and stuff like that. His very first party he joined was the "Card Jitsu Party 2011" like about 2 weeks after he joined. His first stamp was the "Underground Stamp". When he created his penguin He could not think of a name for a while but then he eventually chose "Corn Sky" as a random name just because he did not know what name he should have. He mostly logged in every day because there is nothing else to do. He also tried to make his penguin rare and famous. He also have other penguin accounts. For more info about his other penguin accounts, please click here.
About Me
Penguin Username: Corn Sky.
Puffle Count: 75. 
Gender: Male.
Observed in the wild: Being random and wanting to be famous.
First Pin: Blue Fish Pin.
Stamps in total: 329.
Favorite Hobbies: Walking puffles, playing mini-games, joining Club Penguin parties, and hanging out.
Favorite Hobbies in real life: Collecting air fresheners and cereals.
Special Features: Club Penguin App.