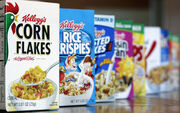 Section heading
Cereal is a type of breakfast meal item. It is very common with many people. Corn Sky usually gets his cereal from Kellogg's. Corn Sky has seen mini-cereal boxes many times, which he loves. Corn Sky has been getting cereal ever since he was a kid. But he still likes to get them today. Some known cereal brands are Kellogg's, General Mills, and Post.
List of Cereal
I will give you a list of some cereal I know from Kellogg's, General Mills, and Post.
Corn Flakes, Corn Pops, Froot Loops, Mini-Wheats, Frosted Flakes, Trix, Lucky Charms, Cookie Crisp, Apple Jacks, Cocoa Krispies, Cocoa Puffs, Reese's Puffs, Rice Krispies, Crispix, Raisin Bran, Cinnamon Toast Crunch, Cinnamon Jacks, Krave, Fruity Pebbles, Cocoa Pebbles, Honey Nut Cheerios, Cheerios, Golden Grahams, Frosted Cheerios, Fiber One, Honey Smacks, Special K, Honey Comb, and All Bran Cereal.
Gallery