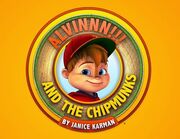 Section heading
Alvin & The Chipmunks is one of Corn Sky's favorite shows. It is an American animated music group created for a novelty record in 1958. The group consists of three singing animated anthropomorphic chipmunks: Alvin, the mischievous troublemaker, who quickly became the star of the group; Simon, the tall, bespectacled intellectual; and Theodore, the chubby, impressionable one. The trio is managed by their human mentor, and later adoptive father, David (Dave) Seville. The characters became a success, and the singing Chipmunks and their manager were given life in several animated cartoon productions, using redrawn, anthropomorphic chipmunks, and eventually films. In 1983, The Chipettes were introduced. They on the other hand, are a fictional group of three female anthropomorphic chipmunk singers — Brittany, Jeanette, and Eleanor — first appearing on the cartoon series titled Alvin and the Chipmunks in 1983. In this and related materials, the Chipettes served as female featured characters in their own right. There are several Alvin & The Chipmunks series in the franchise, but to what Corn Sky has said, he likes the 2015 series the best, which is entitled as ALVINNN!!! and the Chipmunks.
Gallery
Community content is available under
CC-BY-SA
unless otherwise noted.